Context Awareness: A first conversation with a soon to be acquaintance at an office party is widely different from the one in a private party.
You must be dressed for the occasion – No ripped jeans, graphic tees unless it is themed party. Subtle solid colors or light elegant dressing go well for such parties.So, a typical kick start in an office party would be –"Hi, I am June, the Acquisition Head for the Boston team" and then give some more depending on the interest of the listener. There are people who would start with " Hi, I am John with 10 years of Marketing Experience and recently promoted as the Acquisition Head of the Boston Team. No wonder I got this because the achievements on the list go on …."Hey, that is too much information at the borderline of being a show off! This goes well only in the typical "Tell me about yourself" questions at the HR interviews.
For a private party, you must and must be dressed for the occasion (because hey, it is always fun to be with the ones you love right!). If it is an Indian wedding, pick your brightest Lehenga Choli, if it is a baby shower luncheon, pick a lovely floral dress. These are the parties where you can show your fun side, so please do not start with "Hi, I am June, a marketing professional at a leading Soap company and best friend of the bride" Instead say, "Hi I am June and I am the reason why people love to take shower". That will sound intriguing and yes, a little humor doesn't hurt (You can choose a better punchline)
Less is more:A conversation should always take its natural course. Start with just as much is required so that it creates an interest in the other person to know more. In this process, the conversation is more likely to get interesting and your confidence is more likely to be boosted. Yeah, you can thank me later!
Don't just look for comfort, create comfort : No matter how nervous/confident you might be, it is very important to create a balance. While it is important to lead the conversation when the other person is submissive, it is just not cool to dominate. Make it warm and welcoming for the other person as well.
Be a good listener: Or at least pretend to. Who does not want to be heard, understood and accepted. You must make good eye contact, show interest in what is being communicated and not check the phone or tablet in the middle of a conversation(No matter how cool you think it might look) . A good first conversation most often leads to long lasting relationship.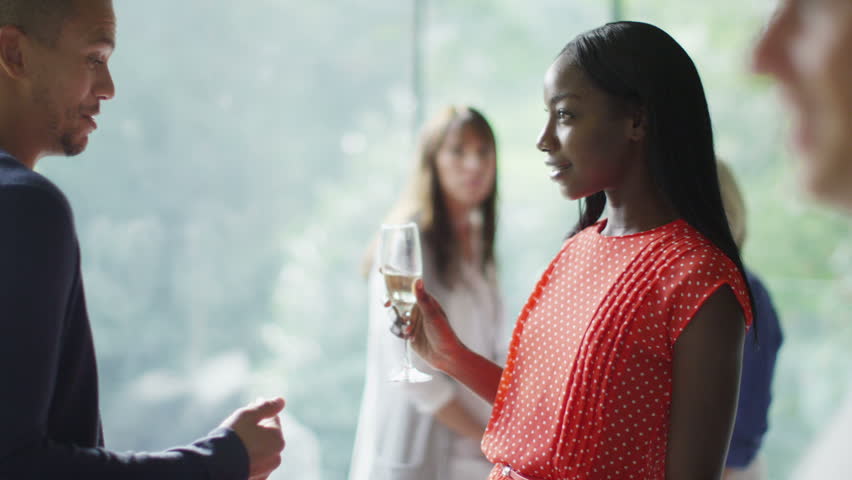 Declutter : Last but not the least, vacate your mind off all the prejudice and thoughts – "Oh does he feel am overdressed for the party? Does he feel I'm not intelligent enough to have this conversation with him?" Hell, it doesn't matter. Just look for an honest connection, a genuine conversation.
A genuinely warm smile, a kind and assertive handshake, and a true, heartfelt interest in others is all that takes to win a conversation!